Local Information



The University of Ioannina


The University of Ioannina was founded in 1964 and is the third oldest state University in Greece. It has about 9000 undergraduate students, about 400 members of academic staff. It is located 6km from the centre of Ioannina and it can be easily reached from the city either by public transportation or by car.



Restaurants


In the city there are numerous restaurants with European and Greek cuisine, local tavernas with very good traditional food and Greek wine, and beautiful cafes. Most of them are located in the city center, by the lakeside.


Museums and archaeological sites


Two of the most important museums of the city are the


Archaeological museum and the Byzantine museum. They are located in the city center 10 minutes by car from the meeting venue.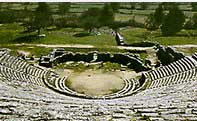 One archaeological site near Ioannina worth visiting is the Dodona Theatre, which is located 22 km. south of Ioannina. It is dated from the 3rd century BC and performances of ancient Greek tragedies still take place every summer. The most important monuments of the site are: the Sacred House (temple of Zeus), the Bouleuterion,

the Acropolis, the stadium and the Prytaneum.

Another place that is unique in the world and easily accessible from Ioannina is Perama Cave. Located just 4 km north of Ioannina, in the Perama settlement, the Perama Cave is at least 2

million years old! There are at least 14 different types of stalagmites and stalactites in curious shapes and sizes which can be admired by visitors on a tour along a 1 Km-long illuminated pathway.

Ioannina castle, lake Pamvotis with its picturesque island and the Wax Museum of Vrellis are also sites worth visiting.
History of the city of Ioannina


Foundation and development of the city until the 19th century
The Historian Prokopios mentions for the first time the foundation of the city as the new Evria at 527 A.D. with the inhabitants of old Evria, in the peninsula where its old castle is situated. The inhabitants of old Evria were removed by the emperor Justinian, because of the strategic importance of the new location. The word "Ioannina" is officially mentioned for the first time in the Acts of Constantinople (879 A.D.), with Zacharias Bishop of Ioannina.

The year 1082, Ioannina was occupied by the Normans. With the fall of the Byzantine Empire to the Latins (1204), Michael Comninos a member of the last dynasty, established the Despotato (sovereignty) of Epirus (1205). A bright progress of Ioannina soon began to appear and a favourable climate for the development of culture and sciences was created. In 1335 the Despotato of Epirus united with the regenerated Byzantine State. After the conquest of Ioannina by Serbians (1367) and Italians (1385), the city came under the Turkish rule (1430), but with several privileges (e.g. the inviolable of the church, non settlement of Turks in the castle etc.). However, after the revolution of Dionysios Skylosophos in Ioannina all these privileges were lost.


By the end of the 18th century the famous Ali Pasha from Tepeleni became the ruler of Ioannina. He expanded his sovereignty beyond Epirus, also to west Macedonia, Thessaly and the whole mainland of Greece. Later, Ali Pasha revolted against the Sultan and he was finally assassinated on the small island of the lake, in 1822. The region of Epirus, with Ioannina were liberated by the Greek Army and united with the modern Greek state, after the fight at Bizani, on the 21st February 1913.

The city today
Today, Ioannina acts as a commercial and cultural centre of Epirus. The city boasts a wide range of sporting and recreational facilities including indoor swimming pools, football and basketball stadiums, theaters, cinemas, Art Galleries, Museums, dancing floors and many colourful bars and pubs. It is famous for its popular art of golden and silver jeweleries and wood sculpture.

More information about Ioannina can be found at:
Tourist guide for Ioannina
Info about Ioannina from the University of Ioannina
Epirus.INFO